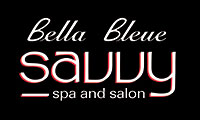 Bella Bleue Savvy
Contact Info
These are

requests only

for appointment times...
Please allow 48 hours for

us to contact you with a

confirmation approval

... this a

request only

you are not confirmed until we

contact you.
Bella Bleue Savvy spa and salon is open Tuesday through Friday from 9am until 6pm; Tuesday and Thursday are reserved for evening appointments until 8pm; and Saturday from 9am until 4pm. Group services are offered by appointment only. Please call 919 . 304 . 7054 to schedule your appointment.
Please arrive 15 minutes before your scheduled appointment. Any late arrivals will be treated for the duration of your booked appointment time.
Because of safety and liability issues, we can not allow children in any of the treatment areas. Once in our treatment areas, we request that all cellular phones and pagers be turned off. Phone calls can be received and made at the guest services desk.
All services are provided by North Carolina licensed Estheticians, Cosmetologists and Massage and Body work Therapists.
Credit Card Guarantee and Cancellation Policy
Effective July 1 2007, Bella Bleue Spa and Salon will require a credit card (or, if applicable, gift card) guarantee for the following:
- All Bridal services and Bridal packages
- All spa packages
In the event of a cancellation of less than 24 hours, the credit/gift card on file will be charged a half fee for all services canceled. In the event of a "no-show" for any service, the credit/gift card on file will be charged the full fee for all services scheduled.
Our service providers are professionals who commit their time to honor your guaranteed appointment. This policy has been established to ensure they are fairly compensated.
Contact Info

Bella Bleue Savvy
(919)304-7054


info@bellableuespa.com


111 N Fourth St Mebane, NC
27302, United States



Business Hours

| | |
| --- | --- |
| Mon: | Closed |
| Tues: | 9AM to 8PM |
| Wed: | Closed |
| Thur: | 9AM to 8PM |
| Fri: | 9AM to 6PM |
| Sat: | 9AM to 4PM |
| Sun: | Closed |