Guestbook
Join to receive Pure Bliss Salon & Spa news and special offers!

Mac OS X 2ÚATTRÀLÀcom.apple.lastuseddate#PSÐcom.apple.quarantine›CÒ_–‰.q/0081;5fd24399;Chrome;C3449F59-41F0-4A0A-A245-0664EE814510

We have created this page to better serve you using the technology of the web. You can sign our guest book to be included in future mailings and announcements about upcoming promotions, programs, and services we provide. Please fill out the form below. The more complete information you can provide, the better we can tailor our offers to you. We value your privacy. Your information will not be shared, sold, or given to any third party.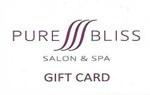 The best way to keep up with our new special offers and promotions is by "liking" our
FACEBOOK
page
http://www.facebook.com/pureblisssalonspa
or @pureblisssalonspa