Online Booking
We Accept the following Payment Types:




Features & Specials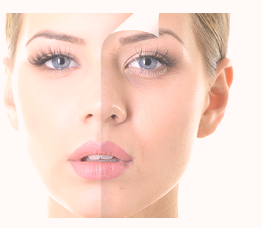 KERATOLYSE VEGETAL PEELING The Keratolyse is an enzymatic peel recommended for revealing a glowing complexion and visibly improving skin texture. True alternative to chemical peels, the Keratolyse helps eliminate dead cells while preparing skin to absorb Nelly De Vuyst® skin care products. Perfectly tolerated by sensitive skin, it is suitable for all skin types and can be applied on the eyelids and lips. OTHER ORGANIC PEELS INCLUDE Blueberry Firming Peel Pumpkin Peel Alpha-hydro-oxy Fruit pulp Peel Accai Berry Brightening Peel Cucumber & Parsley Oxygenation Tx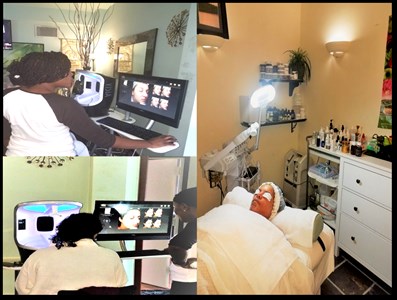 A truly decadent experience, the facial every client is seeking AND actually deserves. After a detailed skin analysis with our Advanced State-of-the-art Skin analysis Machine, we custom tailor a facial Just for You based on our findings to address the areas of concern as well securing and restoring the general wellbeing of your skin's youthfulness and luster. The exclusive organic multi-acid peels and serums that will balance and heal problematic skin. It combines a deeply relaxing massage with a Booster and masque, specifically chosen to suit your skin condition. Whether it is SENSITIVE SKIN – ROSACEA TREATMENT, LIGHTENING UP! (Hyper-pigmentation uneven Skin tone, Acne scaring), DRY | DEHYDRATED SKIN TREATMENT (Dehydrated and thirsty skin, Sun damage and premature aging), OILY SKIN TREATMENT …SHINE CONTROL…instant improvement will be visible. A PERSONALIZED TX : custom tailored to meet your individual needs, targeting specific concerns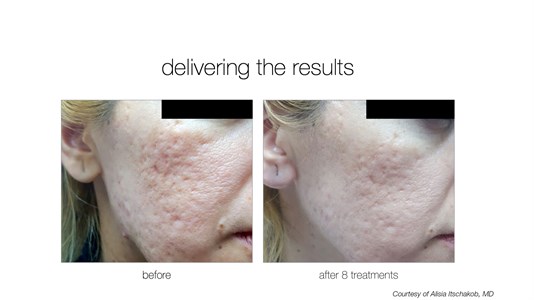 This non-surgical treatment can reduce the appearance of various signs of skin damage like acne scars and other scars, stretch marks, rosacea, enlarged pores, deep wrinkles, and uneven skin texture and pigmentation.